Last 27 May 2021, the Stephen Zuellig Graduate School of Development Management held a special Townhall for current Master of Development Management (MDM) students, alumni, and aspiring scholars of Asian Development Bank-Japan Scholarship Program (ADB-JSP) via Zoom.
Present during the event is Mr. Hiroki Kasahara, the Principal Financing Partnerships Specialist of Asian Development Bank who also gave his message to the guests. In his speech, Mr. Kasahara highlighted that "human resource development is the key to nation-building and that this philosophy is the cornerstone of Japan's Official Development Assistance Policy". And ADB-JSP, one of the key players that actively promote and participate in this endeavor, has continuously supported developing countries in Asia and the Pacific.
To revitalize the scholarship program, the Asian Development Bank underwent a comprehensive review to assess how it has been addressing the demands and future challenges of the pandemic—if the ADB-JSP partner academic institutions were able to transition and upgrade facilities, faculty, and delivery of the program considering the abrupt shift to online platforms. Moreover, how ADB-JSP will ensure continuous support to its scholars to equip them with the necessary knowledge and skills to contribute to their home countries, which is the core objective of the scholarship program.
As we continue to face these challenging times, Mr. Kasahara encouraged everyone to contribute to making a positive impact and to lead by example. He also reaffirms ADB-JSP's commitment to further strengthen ties with AIM in revitalizing the scholarship program to support the development of more impact leaders
For the past 33 years, ADB-JSP has given the opportunity to the more than 4000 highly qualified youths to undertake graduate studies in economics, business and management, science and technology, and development studies in 25 partner educational institutions in 9 countries in the region. The Asian Institute of Management has been one of the regional partners that have been with ADB-JSP for the past three decades and have produced more than 300 alumni in the Master in Development Management program. Every year, ADB-JSP provides 15 scholarship grants for qualified individuals who aspire to have graduate degree programs offered by AIM.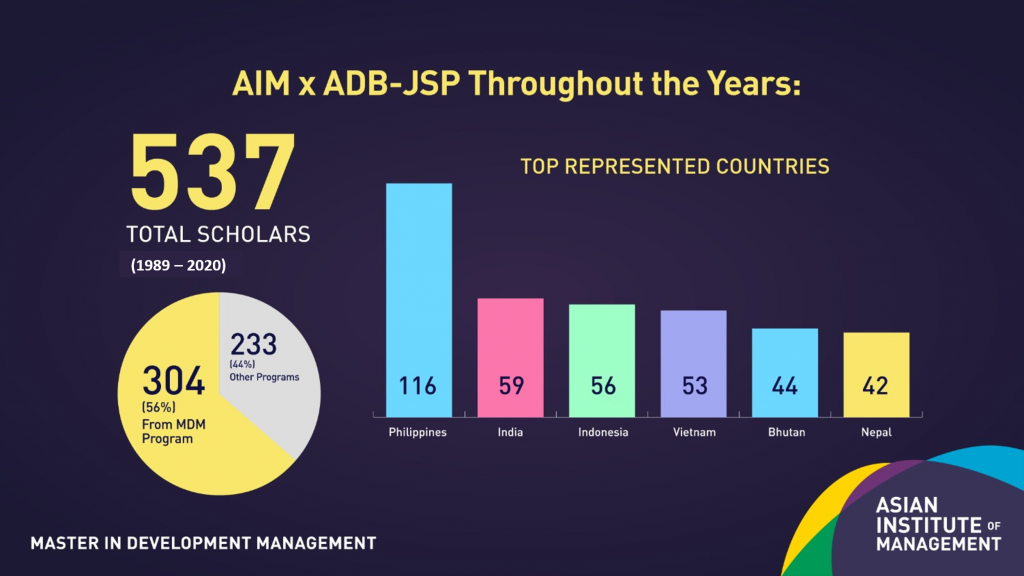 Also present in the event were two ADB-JSP scholarship grant recipients from the MDM 2021 program, and they shared their experiences with the attendees.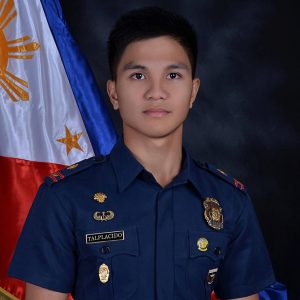 According to PCPT. Rod Kevin Talplacido, an Administrative Officer in the Office of the Director of Philippine National Police – Special Action Force, his journey as an MDM student officially began when he attended the AIM graduation ceremony of his senior back in 2015. From there he was inspired by the stories of the graduating batch and on how the MDM program made an impact and changed their lives. Now that he is part of the program, Rod emphasized that even if the classes are being held online because of the pandemic, it did not hinder him and his fellow students to develop mutual connections and build relationships as classmates. He also considered his studies, not as a challenge, but as an opportunity to grow further and become a leader that always strives for excellence.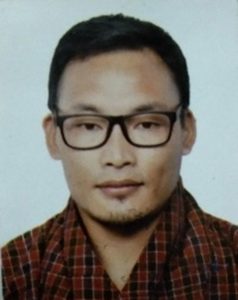 Jamjang Gyeltshen,  a teacher by profession and currently working as an Administrator with the role of Vice-Principal in a public secondary school in Bhutan, shared that his student journey was an exciting one because of the ADB-JSP, he was able to get into the MDM program, and that both programs opened up opportunities for him to learn a lot as a leader and make such changes in his organization. Jamjang who is also a volunteer front-liner responding to the COVID-19 situation in his country did not allow the pandemic to halt his dreams of taking the MDM program and receiving a grant from ADB. In pursuing his admissions and attempt to qualify for the scholarship, Jamjang shared how persistent he was considering his location– a high-altitude area in Bhutan. He had to walk for hours in the chilly mountains and get to the nearest village with a decent internet connection. Jamjang heartily expressed that taking the MDM program was a life-changing decision and that he does not have any regrets about taking this course because he can now contribute to providing solutions that affect the global community.
To know more about the Asian Development Bank – Japan Scholarship Program, click here, and the Master in Development Management program through this link.