The Stephen Zuellig Graduate School of Development Management (ZSDM) respects and espouses the 2030 Agenda for Sustainable Development.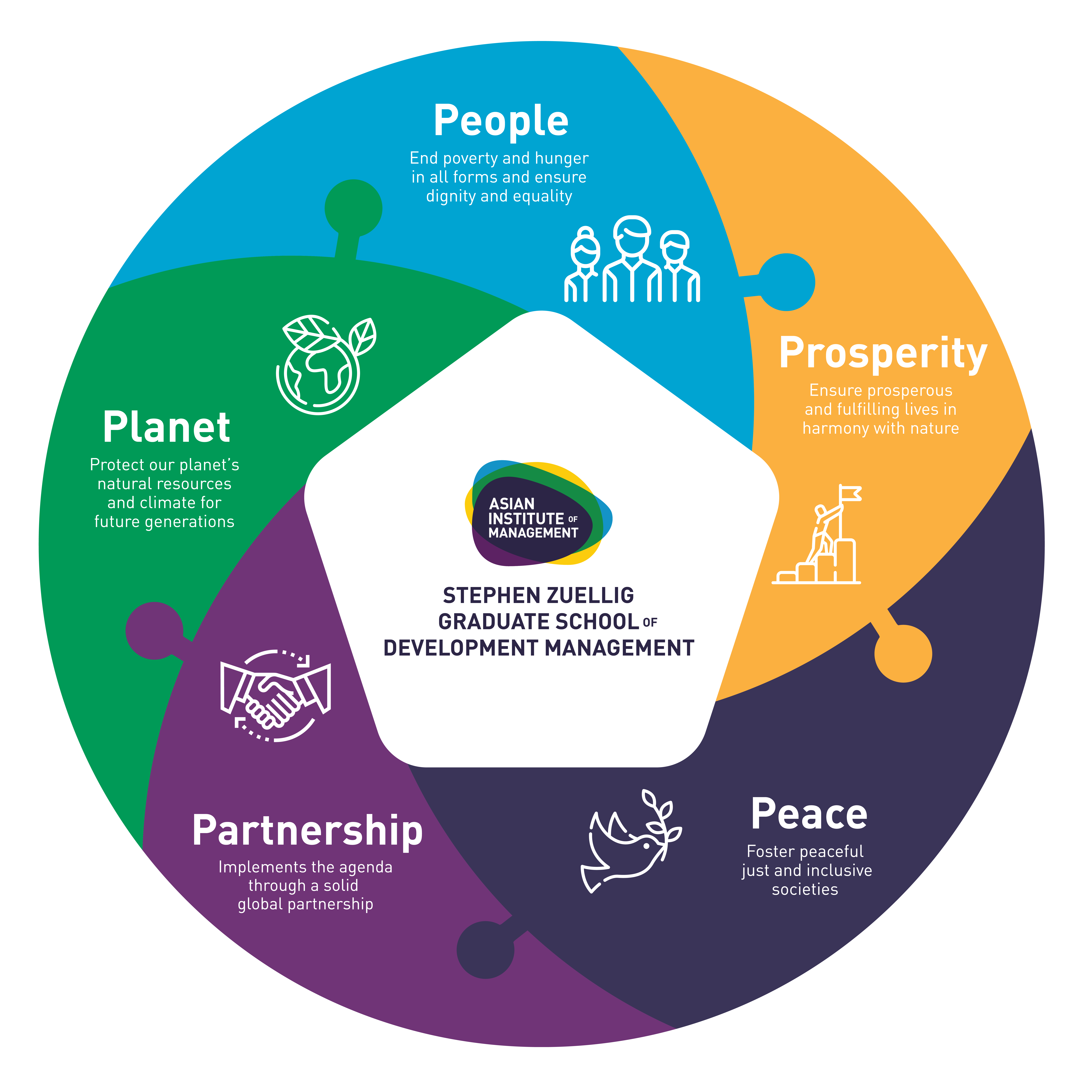 Today, profit is no longer the sole barometer for success. To stay relevant, organizations need to embrace sustainability and to consider and give importance to people, planet, peace, and partnerships apart from profit.
ZSDM Vision
The 21st century is the Asian century, in which Asia reclaims its historical position in the world economy in a sustainable and inclusive way which results in the eradication of poverty, a fairer distribution of wealth and the preservation of Asia's natural endowment. 
Asia needs managers who lead sustainable development, inspire their organizations, and transform their communities into wealthy, sustainable, and inclusive societies.
ZSDM Mission
To mold the next generation of development managers and professionals and change agents at the development organization level, at NGO's, in government, and other organizations.
To work with emerging nations to build a national corps of public managers who can design and implement public service delivery programs, including poverty reduction and sustainable development projects.
About our Benefactor, Stephen Zuellig (1917 – 2017)
The Stephen Zuellig Graduate School of Development Management  (ZSDM) at the Asian Institute of Management (AIM) is named after Dr. Stephen Zuellig, the son of a Swiss national, Frederick Zuellig, who came to the Philippines in 1901 to pursue business opportunities. Apart his various initiatives that have helped make healthcare accessible to more Filipinos, Dr. Zuellig is a staunch supporter of higher education.  
Dr. Zuellig's generous endowment has enabled the Institute to provide more scholarships to its MDM students, and helped to ensure the continuity of development programs.  
Ambassador Roberto R. Romulo wrote the following obituary to commemorate the remarkable life of Dr. Zuellig: https://www.philstar.com/business/2017/01/27/1665753/dr-stephen-zuellig.
The ZSDM Leadership Team prepared the following report for the appreciation of the 

Zuellig Family. This document summarizes ZSDM's key accomplishments in the past year 

and provides an update on prior initiatives since the renaming of the Center for 

Development Management to the Stephen Zuellig Graduate School of Development 

Management.
31 Jul 2020
Early-Bird Discount (Tier 1) Deadline
31 Aug 2020
Foreign Applications Deadline
30 Sep 2020
Early-Bird Discount (Tier 2) Deadline
31 Oct 2020
Deadline of MDM Applications
15 Dec 2020
AIM Study Loan (Commercial Loan) Program Application Deadline
15 Dec 2020
Early Bird Discount (Tier 1) Deadline
15 Feb 2021
Early Bird Discount (Tier 2) Deadline
31 Mar 2021
Grant-in-Aid Application Deadline
31 Mar 2021
Study Now, Pay Later Application Deadline
31 Mar 2021
AIM Study Loan Program (Application Deadline)
30 Jun 2021
EMDRCM Application Deadline