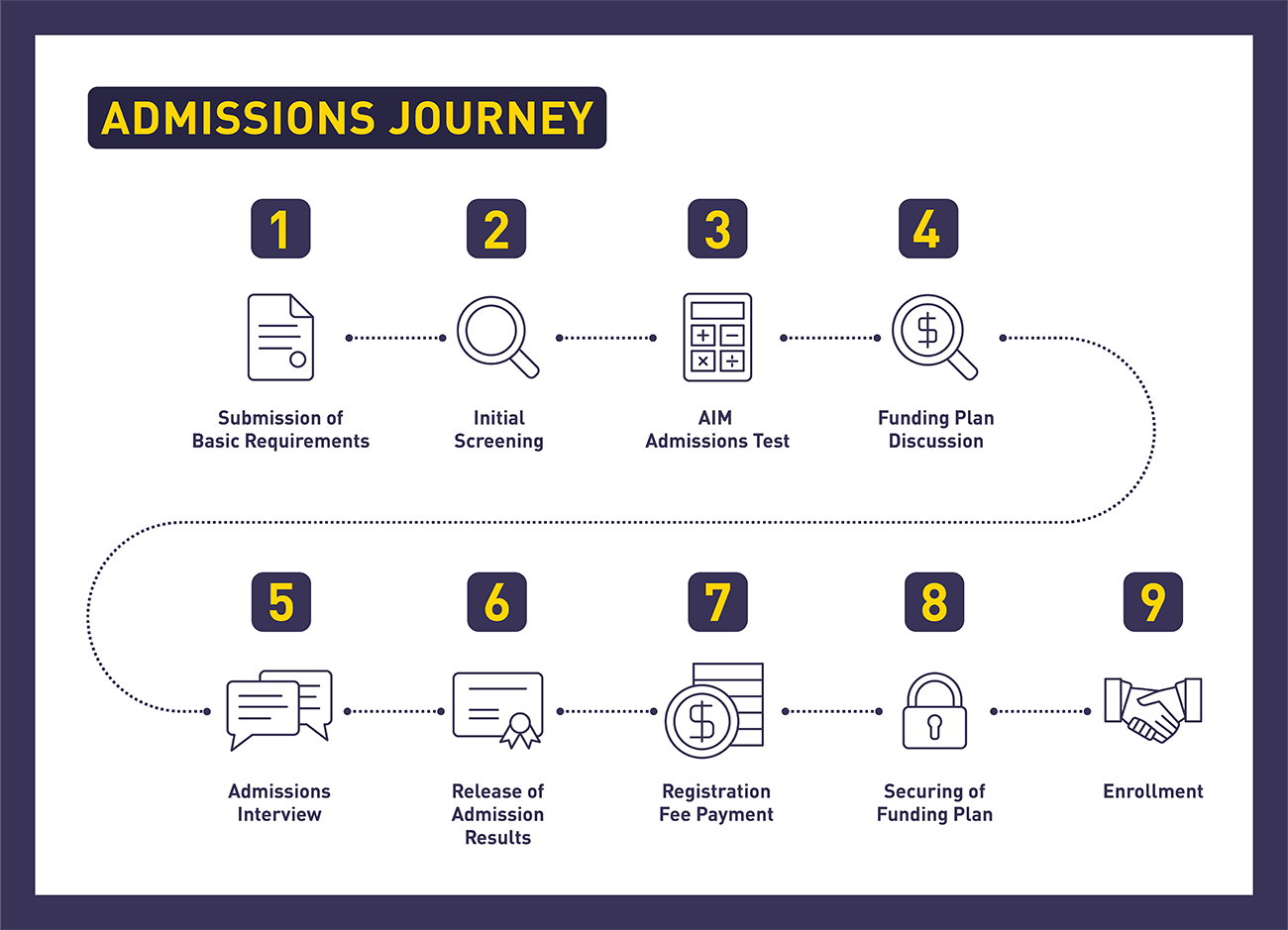 STEP 1: Confirmation of Eligibility Requirements
Has a Bachelor's degree
Three years of work experience, PREFERABLY managerial or a supervisory level
Proficiency in oral & written English, PREFERABLY IELTS Band 6 for foreign nationals
STEP 2: Submission / Completion of Requirements
Online Application Form – https://mdmonlineadmissions.aim.edu
Curriculum Vitae (CV)
Transcript of Records from College AND/OR Master's (if applicable)
Diploma from College AND/OR Master's (if applicable)
Passport (bio page)
Development Action Plan (DAP)
STEP 3: Initial Screening – Let our Admissions Team get to know you better.
STEP 4: Take the AIM Admissions Test OR Submit your GMAT/GRE/NMAT by GMAC Scores.
The AIMAT is a multiple-choice exam. It is time-bound and pacing in answering the questions must be managed by the examinee to maximize the allotted time. The AIMAT is a 2-hour timed test that covers three important areas:​
Verbal proficiency in English: This will measure your understanding of the basic rules of English, such as
grammar usage and reading comprehension.
Critical Analysis: This will gauge your ability to evaluate an assumption, such as an inference, and draw
conclusions on given facts.
Quantitative Reasoning: This will assess your ability to work with numbers and solve problems.
Review Links:
STEP 5: AIM Admissions Interview
STEP 6: Release of Application Results
STEP 7: Secure your seat for the MDM Class of 2021 by paying the Registration Fee of USD 1,000.
The Registration Fee will serve as your equity and will be deducted from the total Program Fee upon enrollment.
STEP 8: Enrollment